Hullo! Sarah and Duck Water Bottle
"Yus!" A personalised Sarah & Duck water bottle. It measures 21cm high with a 500ml capacity and can only be described as Quack-tastic!
Each of our metallic water bottles come with a plastic sports cap top for easy access. BPA Free sports bottle push-pull mouthpiece and screw on top. Hand wash only.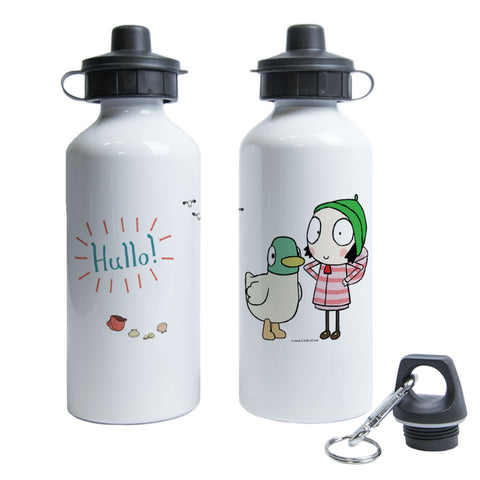 Brilliant bottle!
Very pleased with the bottle. Really good quality and sturdy metal. Great design. Our Sarah and Duck fan is going to be thrilled with it! Delivered in perfect condition and very quickly!
I can't wait to use it
My son used to watch Sarah & Duck, our entire family fell in love with the show. I actually bought this water bottle for myself. It's a nice size for when I'm exercising and don't want to carry around a bigger bottle. It has two options for lids which is nice. The picture on the bottle is very clear and a nice size. And it's fairly light for little hands if my son wants to use it. Overall very happy with it.