Sarah & Duck Sound Puzzle
As seen on the hit Cbeebies TV show Sarah & Duck. Sarah is a 7 year old girl with big eyes and a green hat who lives with her slightly manic, but endearing best friend duck. Together they embark on simple but exciting adventures, exploring the world both near and far in their own imaginative way.
This sound puzzle includes 6 character illustrated, removable puzzle pieces with pegs and a Wooden base board with speaker. One by one, place The characters in their correct puzzle slot to hear what they have to say! Characters included; Sarah, duck, rainbow, scarf lady, moon, shallots. Batteries not included. Compact design. Develops hand eye co-ordination, encourages problem solving and introduces auditory processing skills. Suitable for ages 2+ years.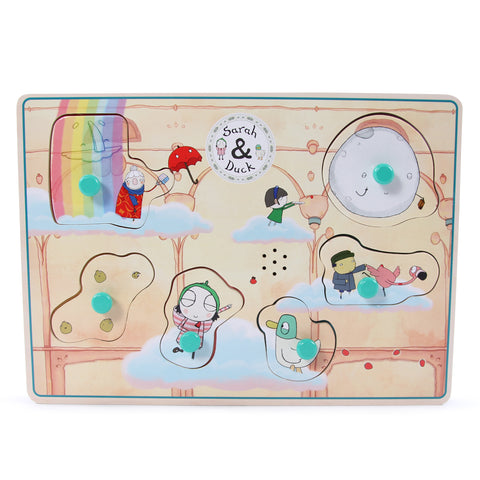 Nice Puzzle
Could do with a couple of tweaks, as sometimes there's an issue where some sounds work and others don't. Apart from that my daughter loves it.
Intermittent Sound
Although I purchased this without realising it came with sound, my 3 year old really enjoyed making all the different characters speak when putting the pieces in. However, not long after playing with it for a bit, some of the sounds stopped playing when the pieces were put back in. Edit *if we leave the puzzle in bright sunlight this resolves the issue* Still it is a lovely wooden puzzle that my daughter loves.
Puzzle
Love this toy! 5yr old loves it. High quality.
My son loves it
A great quality puzzle. My 18 month old is obsessed with Sarah and Duck currently so this has become his favourite toy. The sounds of all his favourite characters.
Beautifully made
A lovely item and so beautifully made!