Sarah & Duck Wooden Stacking Train
As seen on the hit Cbeebies TV show Sarah & Duck. Sarah is a 7 year old girl with big eyes and a green hat who lives with her slightly manic, but endearing best friend duck. Together they embark on simple but exciting adventures, exploring the world both near and far in their own imaginative way.
This Wooden, two part, pull-along train and carriage, allows your child to imagine they are taking Sarah, duck & Friends for a ride around town. Each block is beautifully illustrated with bright colours, allowing children to arrange the passengers and reshape the train. The Sarah and Duck Wooden stacking train is the ideal way to introduce fine motor skills, colour and shape recognition and matching and sorting skills. Suitable for ages 18+ months.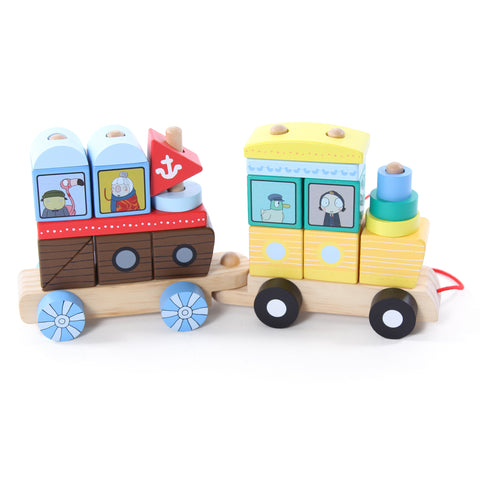 Excellent and sturdy
What a wonderful little toy, keeps our 3 year old (biggest Sarah and Duck fan) and 1 year old (2nd biggest Sarah and Duck fan) entertained together for ages. Colourful and well made, had it since Christmas 2019 it's taken a fair bit of bashing and happy throwing about and it's still pristine. You should definitely buy this! Buy it! Buy it now!
Lovely toy
My son is two, and was delighted to play.
Multiple facet and dynamic toy.
Lovely train
Very good toy, brought for my little boy, 1 1/2, and we spent ages putting the blocks on and taking them off.