Sarah & Duck Merry Christmas Water Bottle
"Yus!" A personalised Sarah & Duck water bottle. It measures 21cm high with a 500ml capacity and can only be described as Quack-tastic! Each of our metallic water bottles come with a plastic sports cap top for easy access. BPA Free sports bottle push-pull mouthpiece and screw on top. Hand wash only.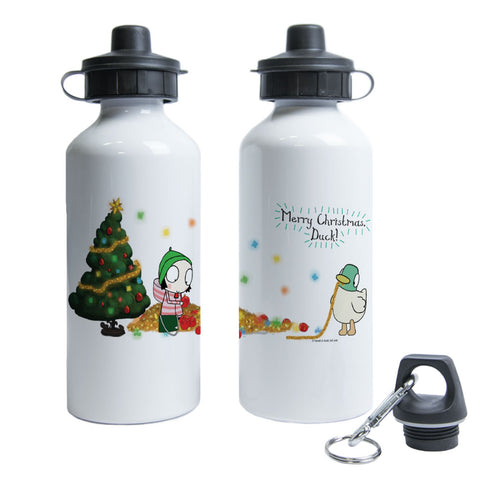 Love My water bottle
Yes, that's right, it's for me, the mom. My son watches Sarah and Duck occasionally, but my husband and I still love Sarah and all her quirky friends. I ordered the Christmas bottle for myself. It's a good size for when I exercise, the print on the bottle is clear and crisp. I will probably hand wash it to keep the print on the bottle. It comes with 2 types of lids which is nice. I had a more expensive metal bottle before and this one feels lighter and thinner so I will be extra careful not to drop it, but for a child and the price I like it a lot. I can't wait to start using it.